This application represents highly objective intelligence test.
If you decide to try this application download packed file to your PC by pressing the button "Download IQ Test". Unpack this file to some temporary directory and then start installation of IQ Test by running the Setup.exe. The application will be fully functional but dialog with information about unregistered version is shown. Some application properties can be used after registration. You can register this application by filling in registration key that you can get after paying small registration fee (see. price list ).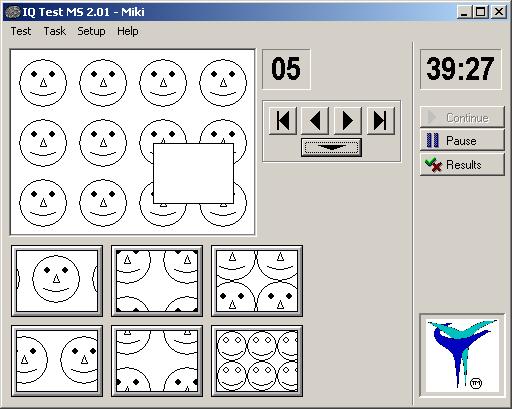 Main application advantages:
-test is every time different, various motives tasks, changeable positions of solutions etc.
-graphical appearance enables small children that cannot read to solve test
-simple application control by Windows environment controls
-help of application
System requirement:
-Windows 98, 2000, Millennium, XP
-processor Pentium 300 MHz
-memory RAM 32 MB
-HD space 20 MB
Pieces
Price
1
€ 8.50
US$ 10.-
2
€ 12.-
US$ 14.-
5
€ 26.50
US$ 31.-
10
€ 48.50
US$ 57.-

-download setup file
---
© 2006 Mikulecky - software